Sunny begins with Na-Mi visiting her mother in the hospital and by accident bumping into Chun-Hwa who is receiving treatment for cancer at the hospital. Chun-Hwa makes a request from Na-Mi to try and find the rest of the girls so that they could do one last thing together before Chun-Hwa dies. From there on we go to flashbacks on how the girl met, became friends and in the end the tragic accident that separated them from each other for 25 years.
So Na-Mi hoping to fulfill this wish starts looking for the girls not always prepared to see what they ended up as. Not everyone had a happy end that they dreamed of when they were teenagers and seeing how some of them ended us is sad to see.
The film focuses mostly on Na-Mi, when we see her for the first time she is a middle-aged woman who is married to a wealthy business man and has a teenager daughter Ye Bin who prefers her fathers way of showing love with money. But of course things are not that black and white, in fact Ye-Bin is the victim of bullying by girls from her school. But her mother and Jang-Mi, Chun-Hwa and Jin-Hee end up kicking the bullies asses and even though it sounds absolutely horrible the scene was hilarious.
All the girls are very different and that' what made it so fun. Na-Mi the new girl from the countryside, Chun-Hwa the awesome cool girl who also is a loyal friend and excellent fighter, Jang-Mi who is obsessed with getting double eyelids, Bok-Hee who wants to become miss Korea, Jin-Hee who's specialty is cursing, Geum-Ok the smart girl and Su-Ji the beauty of the group.
They decide on giving their group and name and after sending a letter to a popular radio show where the hosts suggest the name "Sunny" as in the song the girl decide on becoming that.
Besides the friendship and rivalry and fights with another girl gang (the fights are awesome, lot's of hair pulling and slapping) it also has that special feeling of your first big love and getting your heart broken.
The end of course is bittersweet, but it couldn't have ended in any other way and Chun-Hwa's last presents to the girls made me cry buckets.
Firstly the casting is awesome, the teenage version and the adult versions are excellent and the 80's music and fashion makes it feel genuine. Hopefully the director who also did another funny film Speedy Scandal continues with making movies that makes you smile and laugh like he has. (I also recommend Speedy scandal and it seems the right for a remake has been bought but I don't think a remake can be as funny though)
I enjoyed the film a lot, I laughed and even cried watching it and it's been a while since I've watched a feel good movie like this that deals with the friendship of women.
So if you have a chance to see it, then do.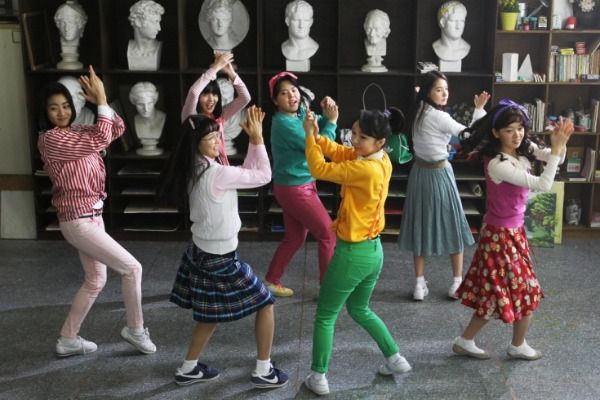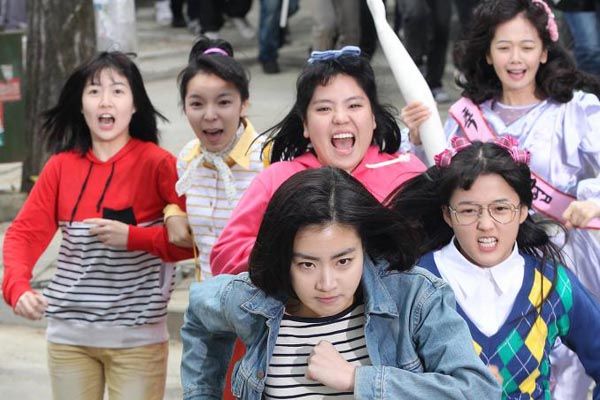 Ever since I saw the trailer to a Korean film called Sunny I wanted to see it. The story about a group of female high school friends who gradually drift apart and then seek each other out again seemed like a fun film with many touching scenes. The trailer made it seem like a great feel good movie that would make you smile and laugh but it was so much more. So it was no surprise the movie became one of the top grossing films in Korea.
Current Location:

nowhere special

Current Mood:

thoughtful

Current Music:

Boney M Sunny
Ōoku or 
大奥 is based on the manga by author Yoshinaga Fumi(よしなが ふみ).
It is a reversed take on history, it is set in 18th century Japan where a mysterious illness known as the red pox has killed the majority of the male population, to survive the society turns into a matriarchal society where the women are doing all the work that men used to do. Men are valuable treasures and only wealthy women have the chance to marry and sothe country's most beautiful men are living in the shoguns inner palace known as Ooku. The country is ruled by a shogun but a female one that has a harem full of attractive men to hopefully become father of the next .
The manga has garnered a lot of praise and awards as the Tezuka Osamu cultural prize etc. I've read the manga up to colume 4 and it's worth all the praise, the english translation unfortunately uses almost a shakeasperian language that can get quite tiresome.
The movie version is based on volume 1 of the manga and was a box office success in Japan. The cast includes artists like Shibasaki Kou, Sadao Abe, Tamaki Hiroshi, Kazunari Ninomiya and Horikita Maki.
In the year 1716, a mysterious disease wipes out a majority of men, leaving only one man for every four woman. Gender roles have been reversed, with women taking traditional male roles and men becoming little more than reproduction tools. To save his family, 19-year-old Mizuno (Ninomiya Kazunari) enters the Inner Chamber in the Edo Castle, leaving his childhood sweetheart Onobu (Horikita Maki) behind. There, Mizuno skillfully wins over schemers like Matsushima (Tamaki Hiroshi), eventually becoming the Chamber Groom. Meanwhile, when the young shogun dies, Yoshimune (Shibasaki Kou) is appointed to take over as the shogun. After Mizuno catches her attention, Yoshimune decides to name Mizuno her first bedmate. However, the job comes with potentially fatal consequences for everyone involved.
The story in the film was very similar as in the manga but with small changes especially the ending which was completely changed for some reason. I would have liked the movie more if they would have kept the end as in the manga. The cast was overall good but I had a small problem with Ninomiya as Mizuno who in the manga is a very attractive young man who is a excellent swordfighter. Nino is a great actor but I felt he was look wise wrong for the role especially as a samurai, Shibasaki as the shogun Yoshimune was impressive. She shows a iron strenght and with the determination to lead the country. Horikita Maki as Onobu is very sweet and portrays Onobu as a quite naive, innocent young woman who is much in love with Mizuno but knowing that class differences will keep them apart keeps her feelings to herself. The rest of the supporting cast does a good job especially Sadao Abe as the older and wiser retainer who knows the cruelty of their positions and life in court. The set and costumes are stunning and you really get the feel of Japan in the 1700.
The music was excellent and as a whole a very entertaining film even though it was not a perfect film and some of the casting was odd I'd give it a 7/10.
I thought I'd do another review since it's been a while since my last post. 
Current Mood:

sleepy

Current Music:

Spitz mahou no kotoba
아저씨)
The basic plot to the movie is ;

An ex-special agent Cha Tae-shik's only connection to the rest of the world is a little girl, So-mi, who lives nearby. Her mother, Hyo-jeong smuggles drugs from a drug trafficking organization and entrusts Tae-shik with the product, without letting him know. The traffickers find out about her smuggling and kidnap both Hyo-jeong and So-mi. The gang promises to release them if Tae-shik makes a delivery for them, however it actually is a larger plot to eliminate a rival drug ring leader. When Hyo-jeon's disemboweled body is discovered, Tae-shik realizes that So-mi's life may also be in danger. Tae-shik becomes enraged at the prospect that So-mi may already be dead and prepares for a battle, putting his own life at risk

As a Won Bin and action movie fan I had been looking forward to the movie since the trailer was first released.
The movie was action packed and well made and I really enjoyed it.
The acting was solid from Won Bin's Taesik to the organ harvesting, drug dealing gangsters and the little girls Somi Sae Ron-Kim. The action scenes were excellent and the fight scenes were well choreographed and performed by Won Bin and the rest of the cast.
There is a great deal of violence that might put off certain vieweres but otherwise it is a solid and a very action movie that I haven't seen in a while.

Here is the trailer and official mv to the film;
http://www.youtube.com/watch?v=0vsxBDx3tq0
http://www.youtube.com/watch?v=_o3X4GqfZZ0
This will be my attempt of reviewing the korean movie ahjusshi (
Current Location:

at home

Current Mood:

bitchy

Current Music:

Mad soul child, Dear
The story, which tells the story of a girl named Naomi who loses the last four years of her memory after falling down a staircase. While Naomi tries to re-establish her identity, she also has to deal with romance in the form of Yuji (Matsuyama), an older schoolmate.
In the mix there is also Naomi's boyfriend Ace (Anton Yelchin) and her best friend Hasegawa Mirai (Tegoshi Yuya)
The author Gabrielle Zevin wrote the screenplay and her partner Hans Canosa directed the film.
If we start with the acting , all the leads were very good in their respective parts. Horikita Maki was especially a pleasant suprise. First working with a international team and acting in english. Maki outdid herself as Naomi, she showed so much range and all the emotions and problems Naomi had were very clear. You could see Naomi's hesitation, questions and love she had in her face. You could see Naomi realising that she might have been someone that she didn't like and slowly changing and maturing into a more grown up woman. Horikita Maki worked very well, her english was excellent and very understandable. About 60-70% of her dialogue was in english.
Then Matsuyama Kenichi as Yuji. Yuji is the tall dark mysterious bad boy that enters Naomi's life. He is the one that sees her fall and calls the ambulance. Her attraction for him is obvious and he confesses to her immediately how he would have liked to kiss her.And later Naomi confesses she would have liked that. But Yuji has a lot of problems and certain things cannot be solved even by loving someone and this is something that Naomi is forced to understand. Maki and Kenichi had wonderful chemistry (especially sexual chemistry) and it shows in all the scenes they have together so part of me was sad that Naomi didn't end up with Yuji.
Naomi also has a boyfriend Ace portrayed by Anon Yelchin who is in the tennis club and a really popular guy. Anton was fun to watch and he throwed himself in his part 100%. His relationship with Naomi had obviously been a physical one and even though he loved her his hormones seemed to rule his actions. Anton and Maki were cute and had great chemistry so is was a shame that they didn't have more screentime together. I would have also liked that the break up would have been different now it was just because he wanted to have sex and didn't like Naomi's haircut.
Lastly we have Mirai portrayed by Tegoshi Yuya from News. Mirai was the nice guy who loved the popular girl but didn't dare to confess his feelings so instead he supports her in different ways. Tegoshi was a positive suprise but unfotunately I didn't feel any thing special between Mirai and Naomi even though he is the one that she chooses. Maybe their love was a more mature one that grows slowly and lasts who knows but it felt a bit lacking.
Supporting cast of Emma Roberts etc were good but my favorite was Naomi's father portrayed by Watanabe Atsuro. He was a great and very loving father who want his daughter to remember her past and even accept his new relationship. Which we find out Naomi hadn't accepted earlier. She had trouble accepting that her father wanted to have a new relationship after being alone for so long.
He was the only charcter that could be described as perfect and the father daughter relationship was absolutely wonderful, Maki and Watanabe Atsuro really worked well together.
The cinematography was excellent and the idea of using photographs were great. The music was another bonus, lot's of indie bands and japanese-american popsinger Kylee's song Kimi ga iru kara (because youre here) added a nice touch.
Even though some parts felt lacking and rushed the movie as a whole was a positive suprise.
This is my review for the movie version of memoirs of a teenage amnesiac by Gabrielle Zevin. I have not read the novel so my review is solely based on the film.
Current Location:

at home

Current Mood:

artistic

Current Music:

Kylee-kimi ga iru kara
That bothers me because I DON'T KNOW!!! My plan is to apply to the JET-program and go wreak havoc in Japan and stalk cute guys.
I know there are not enough work here related to the tourism industry so my hope is to go abroad and work there.
Although at the moment my Japanese still sucks but hey that can be fixed all I need is a pillow dictionary.
A pillow dictionary, that I heard from a friend who lived in Russia and at the time had a russian boyfriend. At a party a group of russian aldies asked how why did she learn russian my friend answered that she had a russian boyfriend. The lady had answered" ah, a pillow dictionary"!
And now for my recent obsession, Alexander Skarsgård aka Erik from True blood. The show is kind of meh, I prefer the books but Eric is so fine that I would take him home with me.
Lately people have been asking me what I plan to do after I graduate(I study tourism). I have about 1,5 years left.
Current Location:

school

Current Mood:

contemplative

Current Music:

Kylee Kimi ga iru kara
I'm still a bit unsure about some dramas but here is my list what I'm watching.
Is watching:
- The wallflowe
- Tokoujou kabachi
Stars Falling From the Sky / Pick the Stars / Wish Upon a Star
- God of study, it's funny I actually prefer the korean version then the japanese version. Abe Hiroshi was great but
the rest of the cast was just annoying!
-
Planning to watch
- chuno
- pasta
Not watching
- Code Blue 2
- Liar Game 2, Erika Toda bothers me she was the reason I could never finish the first season
- Otomen, I watched a few eps and i like the two that act Asika and Ruta but Kaho does not fit the look
for Ryo. In the manga Ryo was really pretty and simply said Kaho is not.
I'll gladly take any recommendations if people have them
The new dramas for this spring has started or still airing, I've been reading what others are watching.
Current Music:

juju feat spontania


So most of my friends use LJ so I thought I'd give it a try.
So about me, short story:
- I live in finland (if you don't know where that it , it's fine majority don't)
- I study chado or sado which is japanese tea ceremony
- Addicted to doramas
- is Horikita Maki biased
- kimono collector

any questions I'll try and answer
First time
Current Mood:

tired

Current Music:

Namie Amuro; meaning of us